Give Frugal but Fantastic Holiday Gifts
November 3, 2017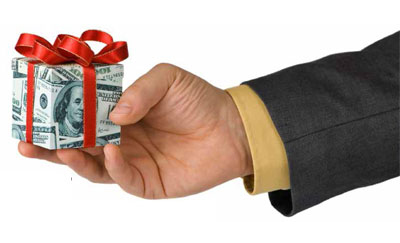 Has overspending at the holidays become a tradition in your household, leading to some unpleasant surprises when the credit card bills arrive in January? There are many ways you can give meaningful gifts without breaking the bank. These include the following:
Agree on Limits
Holiday spending can go into overdrive when everyone is trying to find a better or bigger present than last year. Hit the brakes on that impulse by agreeing with friends or family to set maximum spending limits for each gift. Another option is to assign everyone in a family or group of friends only one person to buy for each year, that way you can give something special without draining your bank account. In a very big family, consider giving presents to kids only. Adults will save a lot and can still share the children's joy when they receive their gifts.
Be Sale Savvy
Watching out for sales and making the most of coupons can help you get great gifts for lower prices. If you want to avoid crowds at the mall, be sure to comparison shop online to find the best prices. Even if you choose to check out the merchandise in the stores, you'll know in advance which retailers have the best prices. Also watch for stores that match their competitors' prices—and that will accept a return if you find a better deal somewhere else.
Make the Thought Count
It's easy to be thoughtful without spending a lot. Does your favorite niece love kittens? A notebook, set of pencils or mug with kitten decorations—or a basket of kitten-themed items—will be as welcome as an expensive toy. If you're a great cook, friends or family will probably be delighted to receive a dozen homemade cookies. You can also collect photos or keepsakes in an album for a loved one. Another idea: Have a loved one who's crazy about fishing, knitting, movies or any other hobby? Give a subscription to a magazine that covers that topic.
Give the Gift of Time
Sometimes a friend or family member may not need more stuff, he or she may just benefit from some or your time. That could involve offering to babysit for new parents or care for pets when someone goes on vacation. Perhaps an older relative or anyone facing a big home improvement or other project could use a couple of hours of help. Or just spend some quality time with a friend or relative you haven't gotten to see in a while. Give some thought to the gesture that would please them the most, then write down your offer of your time on an attractive card and see how welcome your thoughtfulness will be.
Give Back on a Budget
The holidays bring out the best in people, which means many try to add some charitable giving into their budgets. Even if money is tight, there are ways you can make a difference. If you have friends or family who seem to have everything already, consider contributing whatever you can afford in their name to their favorite charity. You support a cause they care about and show that their passions are also important to you. Also consider donating either your time or valuable items you no longer use. Many charities welcome clothing, furniture or kids' toys in good condition.
Consult Your Local CPA 
Every day, local CPAs offer clients expert advice on a wide variety of financial concerns, including making a major purchase or obtaining a loan. Whatever your financial questions, your CPA can help you find the answers. Locate a CPA near you with our Find-A-CPA directory.
Copyright 2017 The American Institute of Certified Public Accountants.